About Us
Serving the North Since 1996
Our Origin Story

Tundra Transfer is the parent company for Clear Arctic Springs and Tundra Coffee. As any good parent, she is here to serve and protect. We serve so much more than gourmet coffees and teas from around the globe. We also serve our customers with pick up and deliveries for Northwestern Air Lease as well as a weekly road trip to Fort Providence. We protect the livelihood of 13 staff members who are eager to help you, our customer, get married to exactly the products that will make your life better. Come on in for a tour of our facility or pop by and allow us to grind up a bean that boggles your senses. Perhaps you are hosting a special event. We can provide you with a funky popcorn machine, a chill snow-cone machine or a juicy Jetspray machine. Tundra Transfer is celebrating 22 years in the industry. As a child her crib was our garage on Stevens Cres. In her teenage years she yearned for more space. Now fully mature, she boasts her own store and warehouse at 325 Old Airport Rd.

Clear Arctic Springs

Nearly 2000 kilometres – that is the treacherous journey our Clear Arctic Springs' water had to make some 22 years ago from the spring source in Hinton to the refinery in Edmonton and finally into Yellowknife. The late Lloyd Brown offered his garage for warehousing. This arrangement required us to ask Lloyd to open his overhead doors, back out his bobcats while we loaded the 3 or 4 bottles we were delivering into our cars and drive them to our respective customers. 40 bottles was enough to supply our customers for 6 weeks! In due course, we began trucking the water that bumpy, unforgiving road from Edmonton into YK with a good 5% of the 40 bottles arriving broken. On another occasion the 40 water from our supplier arrived with "a funny taste" and we had to pour it into the ditch. It was 1998 before we purchased our first reverse-osmosis bottling station and it has now evolved into a semi-automated system which produces 300 bottles an hour each day and two delivery drivers to distribute.

Tundra Coffee Co.

Tundra Coffee Co. offers you a myriad of coffees, hot chocolates, DaVinci syrups, specialty drinks and biscotti to accompany those fragrant elixirs. Tempt yourself with a Highlander Grogg coffee – guaranteed to addict the most stalwart of personalities. Our beans are so fresh they flirt with you. Get seduced. Our Tea Guru, Lily, will match you up with one of our dames with handles like Sencha Kyoto Cherry Rose, Lady Hannah Fruit and Hojicha Green. Lily has blended her own specialty line of herbal teas to combat any number of ailments including stomach ailments, colds, sleep disorders and depression. Don't forget to keep us pinned to your calendar for any special occasion; gift baskets are lovingly hand-crafted by Lily. We boast a large variety of coffee and tea equipment for home, office and retail use. We support that component of Tundra Coffee with a talented tech team. Gerard and Eric, both clever and friendly, are always happy to help if your equipment goes south.
Our Team
Meet our talented team of specialists!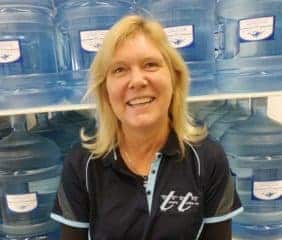 Annette Althouse
President, Accounting, OPS
Annette is the heart and soul of this operation, one of the founding partners she has been in this business since 1996.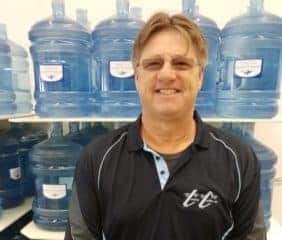 Dennis Althouse
Vice President, Director of Sales, Marketing & Operations
Dennis is Tundra Transfer's Mr. Bean: triumphant in innovation, unique in his problem-solving abilities, affable and vivacious. He is, in equal measure, as nonsensical in fun as sensible in business.
Jeremy Curtis
Warehouse Manager
We had to simplify Jeremy's title to Warehouse Manager because adding Happiness Personnel, Class Clown, Nutrition Resource Manager, Staff Psychologist, Special Events Co-ordinator and All-Round Good Bloke did not fit on his business card.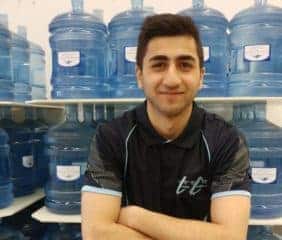 Arman Aslanyan
Accounting
Arman is the son of Tundra Coffee's service specialist; Manvel, he has been around our business since he was a kid and is now pursuing a career in accounting; where better to get some on the job experience while doing courses than here?!
Timothy Zoe-Martin
Service & Delivery Specialist
Tim is our red-pass guy, he meets the planes and does cargo pickups and deliveries as well as being a Sales Associate for Tundra Coffee Co.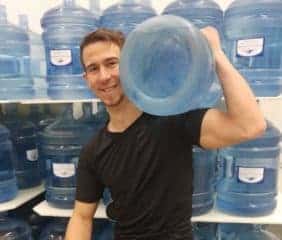 Garrett Fyfe
That one employee who keeps leaving then coming back but will never truly be gone
Garrett has been coming and going for over 7 years now, there isn't a job at any of the three divisions of Tundra Transfer that Garrett hasn't tried; Garrett does it all!